Enhance experiences, unlock performance, and empower change with a strategic employee listening program.
In today's increasingly dynamic work environment, insight into employee experiences and perspectives is critical to understanding, leveraging, and directing your talent. Building your workforce for the future starts with spotting people risks and opportunities as they arise.
With Allegro, stay continuously connected to your people — deploy census, ad-hoc, and continuous, or pulse surveys, to gain insights into all aspects of employee engagement, organizational performance, leader/manager effectiveness, and the employee experience. Generate the data and reports you need to take action.
Allegro delivers the agility you need to stay connected to your workforce, along with rich content and configurability, smart reports, analytics, and guided action facilitation. With Allegro you get:
A strategy workshop led by Mercer to ensure your continuous listening program is designed to drive impactful improvement and change.
An intuitive user experience that provides guidance throughout the survey build.
Unlimited survey administration.
Access to over 200 validated questions with robust benchmarking.
Live results and participation tracking.
Interactive reporting that delivers insights to leaders, managers, and HR.
Personalized action priorities and recommendations with best practice guidance.
Are you ready to cut through the noise and get to the heart of what your employees are saying?
Would you like more guidance and support creating curated learning experiences for your people?
Get in touch to discuss your skills development needs.
Why Allegro from Mercer?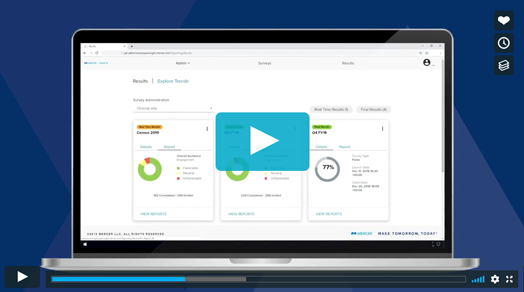 Employee listening programs are effective when strategically designed and implemented with purpose. Watch the Allegro demo now to see how this strategic employee research platform can help you drive performance within your organization.
ENHANCED EXPERIENCE
Multi-language capabilities and personalized messaging
Unlimited survey administration
A guided survey build experience
Adaptive mobile survey capability
GUIDED STRATEGIC PLANNING
A Mercer led strategy workshop that helps you:
Clarify research objectives
Identify areas for assessment
Select research methods
Determine survey cadence and composition
Prepare for reporting, analytics, and action
EXPERT INSIGHTS
200 pre-built, validated questions spanning key areas
Client customized item bank
Robust normative benchmarking
Compare by industry, country, and high-performing organizational status
UNLOCK PERFORMANCE
Live interactive reports
Analyze trend patterns
Easily explore root causes of lower scoring areas
EMPOWER CHANGE
Personalized action priorities and recommendations
Suggested action plans and steps
Best practice guidance
Allegro is sold as an annual subscription. Your subscription includes:
Fully managed platform implementation including a strategic planning workshop and historical data import (if applicable).
All available platform functionality, content, and resources.