Develop and compare your company pay bands with the market and manage compensation analysis consistently.
Consider these questions:
Do you have a grading/levelling structure in place in order to develop and maintain pay bands in your organisation?
Would you like to utilize Mercer's market data in a new consistent way?
Are you looking for an analytical, simple-to-use, yet rigorous tool to support you in the management of your compensation structure and to allow for easy budget modeling options?
Mercer's Pay Band Tool 2.0 helps you design pay bands based on market and/or internal company data. It provides a pragmatic approach for managing compensation across all your locations through the creation of consistent pay bands.
The tool allows effective compensation data maintenance that can be performed on a year-over-year or ad-hoc basis. Different ways of presenting the results allow both high-level budget estimations and in-depth incumbent-based analysis, such as deviation from the market or internal compa-ratio.
This Excel-based solution allows you to model different aspects of your pay bands in a coherent manner, including the definition of midpoints, pay range widths or grade overlaps for each compensation element from base salary to total remuneration.
Download one-pager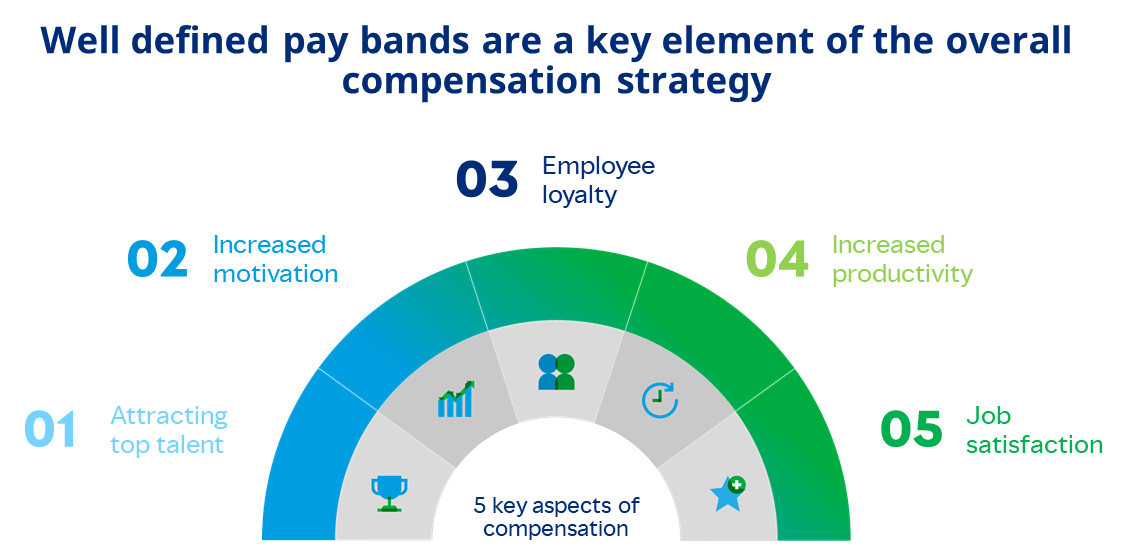 01

Mercer's Pay Band Tool is Excel based and easy to administer and set up.

You can compare your company's data vs. market and manage compensation analysis effectively.

The basic features of the tool are administered through the intuitive user interface.

02

Create and maintain pay band structures

Mercer's Pay Band Tool allows you to design your pay bands for the different countries in which your organization operates in a consistent way on a yearly basis.

It gives you a fast overview of the current positioning of your employees in the band.

You may adjust selected pay bands in defining different bandwidth and smoothing the progressions based on the specific market's environment.

03

Budget modelling and cost control

For each pay band, the distribution of employees is shown, including associated cost to minimum and cost above maximum.

Potential cost of adjustment to band structure is displayed by band, by gender or overall and allows for forward-looking pay planning.

04

Deviation analysis – incumbent's view

Next to the numerical and graphical analysis of where all of your employees lie in the band, you can also look at detailed deviation analysis for each employee, from base salary to total remuneration.

This gives you the opportunity to identify reasons for possible outliers and define action plans if needed.
Improved results display
Enhanced main chart with pay bands, gender and regression lines selection. Simplified and ergonomic customization options, based on clicks and selections.
Enhanced analysis
Possibility to build pay bands based on client's internal data or market data; easy switch between market data statistics (25th/average/median/75th).
Improved way the client models pay bands
The customized setup is saved and the user can easily toggle between standard and custom settings. Ability to adjust the pay bands by positioning, rounding or having unique bandwidth for each grade.
Multiple Source Providers
In order to have a broader view of the market situation with data reflecting different perspectives you may also include in the tool the market data from up to 10 different sources, for example: Mercer WIN and Comptryx. This allows decision making to be based on a multi-dimensional picture of the market.
Options
Description
Fee/Time
New client:
Single provider tool set-up
Includes set up of the tool, uploading of the client's data, Mercer market data within regular scope* and 1h training
EUR 11,060**
5 working days
New client:
Multiple providers tool set-up
Includes all features from Single Provider set up + the tool is working with market data from up to 10 different sources/providers
EUR 13,840**
10 working days
Existing client:
Refreshing the tool
Includes uploading of the client's data, Mercer market data within regular scope* and salary increases update
EUR 2,030+
(depending on the scope)
Additional data upload / market data analysis
Uploading more than 30 countries or not following the regular scope (e.g. additional refinements, custom percentiles, benefits valution, etc.)
EUR 500+
(depending on the scope)
*Regular scope contains: Mercer market data for maximum 30 countries, regular market statistics (25th, average, median, 75th), standard compensation elements, no LTI and Benefit valuation for client's data and no tool customization.
**The fee for Mercer's Pay Band Tool is a one-off project-based fee only. Custom scope requires contacting the Support Team for the feasibility check and fee estimation.


PayStart is made up of four elements – 3 tools and consulting help every step of the way to provide you with a sustainable solution.
With Mercer's PayStart we offer you a pre-defined grading structure aligned to your organisation's size and complexity, access to market data and a Pay Band Tool to help you transform market data into a meaningful pay structure, and model the implications. We combine the tools with consulting workshops to help educate you, and facilitate discussions in order to take strategic decisions right for your organisation. Not only do you receive tangible deliverables, but also significant knowledge transfer that is key to expanding your organisation's expertise and ensuring you can sustain the solution long-term.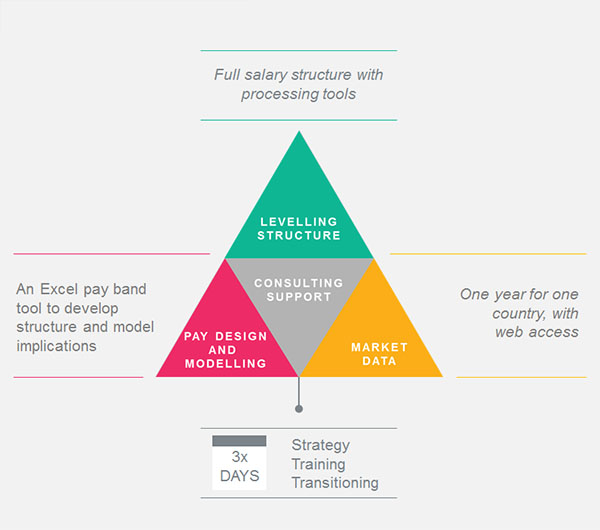 For more detailed information on price, content, features and timing, please contact:
Jakub Puławski
Phone: +48 223 765 535
Email: Jakub.pulawski@mercer.com
Witold Pluta
Phone: +48 669 690 664 / +48 22 436 6875
Email: witold.pluta@mercer.com