Provides retail companies with current and comprehensive remuneration data on a selection of industry specific positions.
Data Collected
Base Salary
Monthly base salary times the number of months paid
Total Guaranteed Cash Compensation
Base salary plus guaranteed allowances
Total Cash Compensation
Total guaranteed cash compensation plus short-term incentive, sales incentive, profit sharing or other incentive awards
Total Direct Compensation
Total cash compensation plus long-term incentive awards, valued using Black-Scholes methodology for appreciation-based awards
Total Remuneration
Total direct compensation plus benefits and perquisites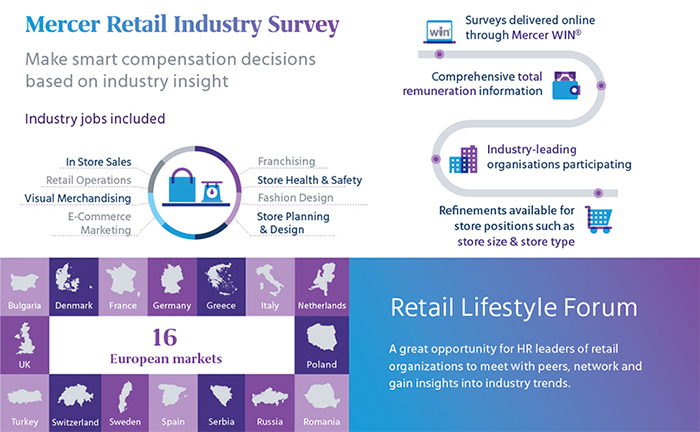 Jobs surveyed
Remuneration data is collected for industry specific benchmarks in the following specialisations:
Head of Retail Store Operations
Multi-Store Management
Single Store Management
Store Department Management
Grocery Management
Supermarket Department Management
Store Shift Management
In-Store Sales
In-Store Customer Service/Front End Management
In-Store Product Returns
Butchering/Meat Cutting
Baker
Cake Decoration
Merchandise Stocking
Supermarket Department Stocking
Duty Free & Travel Retail
Key Customer Management
Head of Store Planning, Design & Construction
Store Planning & Design
Store Development/Set-Up
Store Space Management
Head of Store Construction
Store Construction Operations
Head of Facilities & Maintenance
Store Shop Fitting
Franchising Leadership
Franchise Development Operations
Brand Licensing Strategy & Operations
E-Commerce Strategy & Planning
Product Design
General Digital/Internet Marketing
Social Media Marketing
E-Commerce/Online Shopping Marketing
Web Content Marketing
Advertising & Sales Promotion
Media/Special Events
Category Management
Category Planning
Buyer
Merchandising
E-Commerce Merchandising
Merchandise Planning & Allocation
Merchandise Demand Forecasting
Merchandise Inventory Control
E-Commerce Fulfillment Center Management
Returns Processing
E-Commerce Web Operations
E-Commerce & Internet/Digital Marketing Technology
Head of Computer Operations & Data Processing
Point of Sale Systems Administration & Data Processing
Point of Sale/Inventory Systems Technical Training & Support
Tailoring
Handbag Repair
Jewelry Repair
Watch Repair
Field Training Instruction
Regional Talent Development
Multiple Retail Training & Development Specializations
Fabric Design
Fashion Design
Visual Merchandising Graphic Design
Marketing & Advertising Photography
Brand Marketing Art/Creative
Digital/E-Commerce Creative
Product Modelling
Visual Merchandising: Corporate
Visual Merchandising: Field Store
Leasing/Marketing Management
Leasing Negotiation/Renewal
Pharmacy Management
Registered Staff Pharmacist
Multiple Pharmacy Services Specializations
Optometrist
Risk Adjustment
Corporate Financial Control: Inventory Accounting
Financial Control & Reporting: Store
Store Accounting Clerk
Field Audit
Store Health & Safety
Head of Loss Prevention/Asset Protection
Loss Prevention/Asset Protection Management
Corporate Loss Prevention
Store Loss Prevention/Asset Protection
Delivery on Mercer WIN
Mercer Workforce Intelligence Network® (Mercer WIN) is a single-point access to Mercer's unparalleled survey data and analytics. WIN represents the most comprehensive and intuitive tool available. Specifically, Mercer WIN allows:
Simultaneous access to markets and surveys around the world
Access to standard TRS reports and the advanced functionalities for relevant individual comparisons by title, level, industries, markets. Aging and currency normalization are available too
Production of customized charts, graphs and reports at the click of a button
Mercer WIN's built-in reporting and analytic capabilities let you quickly and easily turn information into true intelligence about your organisation's remuneration practices. Using this sophisticated yet surprisingly simple tool, you can explore, interpret and formulate insights on important human capital decisions and investments.
| | | | |
| --- | --- | --- | --- |
| Country | Questionnaire distribution date | Participation deadline | Results publication |
| Austria | 1-Apr-23 | 1-Mar-23 | 13-May-23 |
| Bulgaria | 1-May-23 | 1-Mar-23 | 10-Jun-23 |
| Czech Republic | 1-Apr-23 | 1-Mar-23 | 13-May-23 |
| Denmark | 1-May-23 | 1-Mar-23 | 9-Jun-23 |
| France | 1-Apr-23 | 1-Mar-23 | 10-Jun-23 |
| Germany | 1-Apr-23 | 1-Mar-23 | 24-May-23 |
| Greece | 1-Apr-23 | 1-Mar-23 | 31-May-23 |
| Hungary | 1-Apr-23 | 1-Mar-23 | 2-Jun-23 |
| Italy | TBD | TBD | TBD |
| Netherlands | 1-Apr-23 | 1-Mar-23 | 27-May-23 |
| Poland | 1-Apr-23 | 1-Mar-23 | 5-May-23 |
| Portugal | 1-Apr-23 | 1-Mar-23 | 13-May-23 |
| Romania | 1-Apr-23 | 1-Mar-23 | 24-May-23 |
| Serbia | 1-Apr-23 | 1-Mar-23 | 29-May-23 |
| Spain | 1-Apr-23 | 1-Mar-23 | 24-Jun-23 |
| Sweden | 1-Jul-23 | 1-Mar-23 | 9-Aug-23 |
| Switzerland | 1-Apr-23 | 1-Mar-23 | 20-May-23 |
| Turkiye | TBD | TBD | TBD |
| United Kingdom | 1-Apr-23 | 1-Mar-23 | 20-May-23 |
The survey is conducted in the following countries:
| | | | |
| --- | --- | --- | --- |
| Austria | Bulgaria | Czech Republic | Denmark |
| France | Germany | Greece | Hungary |
| Italy | Netherlands | Poland | Portugal |
| Romania | Serbia | Spain | Sweden |
| Switzerland | Turkey | United Kingdom | |